Earlier this year, around 50 people, many who run or manage cooking skills activities came together to hear evidence about the impact of community co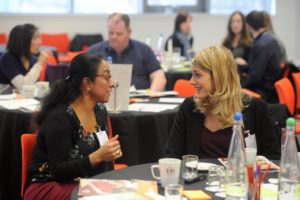 oking activities.
They heard from Professor Martin Caraher (City, University of London) and Dr Ada Garcia (University of Glasgow). Lyndsay Clark (Fife Health & Social Care Partnership) and I discussed the results from the CFHS cooking skills study group realist evaluation.
Here's some information that will cheer up anyone looking for evidence of the impact of community cooking skills courses:
Cooking skills study group realist evaluation
This evaluation gave us information about 75 adults (51 women and 24 men) who took part in community cooking skills courses across Scotland. Our findings showed that:
79% improved their cooking skills (a further 16% could already cook)
68% made steps to improve their diet: the most common change was increasing fruit and veg intake (48% of people increased their fruit and veg intake)
Women were more likely to make steps to improve their diet than men (73% v's 58%): and
People who were vulnerable* were less likely to make steps to improve their diet than non-vulnerable parents (66% v's 76%)
You can find out more about the results of our evaluation in 'chopping and changing', including what worked, why and who for.
Professor Martin Caraher discussed the history and politics of cooking skills classes as well evidence. He reminded us that concern about people on low-incomes lacking cooking skills is not new – it was raised in the 18th and 19th centuries. However, lack of cooking skills is not unique to people living on low incomes. Martin's views (gathered and researched over many years) of the impact of community cooking activities included:
Cooking is an important part of health and public health activities but it is not a magic bullet
Impacts at the end of the cooking programmes are good
Community embedded and based cooking initiatives have longevity and deliver additional outcomes
Classes offer a 'safe' opportunity to taste, try and take home food before trying at home
There are some indications that they can contribute to a wider health and food literacy
They can be used to educate about the food system and contribute to a sense of food citizenship
Linked initiatives tend to show more impact, so linking gardening and cooking
However, too much is expected of cooking e.g. solving obesity crisis is too ambitious.
You find out more about Martin's work and read some of his publications here.
Dr Ada Garcia reported on the findings from the second stage of evaluating the NHS Greater Glasgow and Clyde eat better, feel better programme. Many of the people taking part in the programme were mothers (or carers) with children living at home. 296 people completed pre and post course evaluation questionnaires and 67 people completed pre course questionnaires and follow up interviews (around 10 months later). Ada's findings included:
The eat better, feel better cooking programme had a positive immediate impact in reducing children's and families food choices contributing to high sugar and caloric intake (i.e.: discretionary foods – less healthy snacks etc)
The programme showed small but positive effects in family eating and cooking practices e.g. cooking from scratch, less takeaways, more fruit and veg
Food label awareness increased.
Most of these changes were maintained at follow-up
You can find out more about Ada's work and read some of her articles (including the first stage of the eat better, feel better evaluation) here.
Practitioners views of the impact of community cooking:
Those attending our event wrote down their 'hurrah' moments: their successes from running cooking activities. The biggest response (10 people) were successes that related to social outcomes, building confidence or engaging with people, for example:
'Whilst chopping veg, a young [vulnerable] guy found the courage and felt safe to talk to me about his hopes and fears for the future after a chaotic past..'
Four people wrote about participants moving onto volunteering roles, such as:
'when participants who have never cooked much before can do so much at the end of the class! And then go and volunteer their new cooking skills to help others..'
And others wrote about people using their newly acquired cooking skills, enjoying new foods or about supporting staff in other organisations to run cooking sessions.
*this included people with mental health support needs or learning disabilities, people experiencing homelessness or in recovery from addictions, and others.