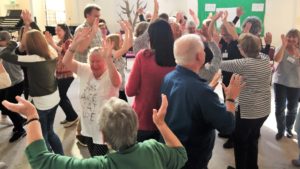 'Take Five' was the fifth national community café networking event run by/with Community Food and Health (Scotland). Around 30 people took part.
Our event was held in City of Edinburgh Methodist Church (which runs the Well Café, a community café), and included workshops, activities and lots of time for networking.
We began with a short 'laughter energiser' by Joyworks to give everyone the chance to meet people there, find out how laughter can make us feel better, and to do something silly.
Our first workshop, George and Leonardo came to town, gave everybody a chance to blow their trumpet, share what they would tell others is great about their cafe and what they wouldn't want others to know about.
What's great?
Our food, it's good and affordable
Inclusiveness … everyone's welcome
Our volunteers
Our uniqueness
We run lots of activities
Providing training (and employment)
Covering our costs and breaking even
What would they want to hide from others?
Issues we have with volunteers
Our rubbish!
Our funding issues
In a bit of a rut (ie. we need to change our menu)
We're not good at communicating with other cafes
We don't use social media
We're quiet at times when we don't want to be
Our second workshop, sharing and learning, discussed four topics:
Reaching out to our community
Recruiting, supporting and retaining our volunteers
Providing good, affordable, healthy food
Promoting what we do
At the end of the event, everyone was asked to let us know 'What now/what next?'. They told us they wanted:
More networking – so that we can learn from each other
More support – training (including for volunteers), funding funding, free food, and learning from the private sector – to help with sustainability and viability.
A volunteer 'Swap Shop'
Policy translated into 'user-friendly' language and to contribute to policy consultations.
Promotion of community cafes.
We sent a short survey to the all the participants a few weeks after the event. They were asked to let us know what had been the most useful part of 'Take Five', if they were doing anything differently now, and if they'd been in touch with anyone they'd met. We heard back from seven of those that were there. They told us:

"It was informative …..took away a lot of good ideas about what community cafes are doing."
(We realised) the community food work that (X's) volunteers are doing does fit into the definition of a community cafe and how important this is to communities. We are also keen to be part of a network (…) in our area."
"(Take Five) might allow me to support work with community cafes in (Y), share what cafes are doing elsewhere and what has and hasn't worked."
"(We understand) how we can measure what we are doing even though it is quite intangible. (We are going to be) more mindful of our impact (and about) recording our performance." 
Finally …
Many thanks to:
City of Edinburgh Methodist Church for the venue and catering.
Sharon and her colleague from Joyworks for the 'laughter energiser workshop'.
Sally Findlay from Edinburgh Community for all help before and on the day.
Colleagues from CFHS and NHS Health Scotland for their hard work on the day.