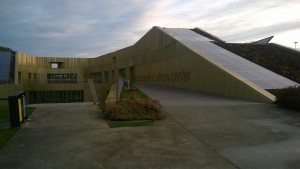 Last November, my CFHS colleague, Jacqui McDowell, attended the COOK and Health Scientific Symposium held at the Basque Culinary Center in San Sebastian. This shared up-to-date academic knowledge on the relationships between cooking, eating behaviours and health.
In this fortnight's blog, I'll highlight one piece of the research presented which focused on involving children and their parents in cooking and compare this with our own reviews. The links provide useful information if you are thinking about running cooking sessions for parents (or carers) and their children.
Klazine van der Horst reported on an experiment that involved children (aged between 6 and 10 years old) in cooking with parents during a one-off cooking session. In one group the children led the cooking activity with help from parents, and in the other children sat in the kitchen doing something else while the parents cooked. The study found that involving children in meal preparation increased their intake of new foods (particularly salad and chicken in this experiment) compared to the children who were not involved.
Follow-up from this experiment showed that children who had been involved in the cooking were now more interested in cooking and their parents spent more time with them doing this. Klazine also shared anecdotal information about the follow up not reported in the published paper: some of the parents said they found it challenging to find time to involve their child in cooking at home. Some restricted this to a weekend activity; others reported using simpler recipes, such as pizzas or toasted sandwiches.
A few years ago, Community Food and Health (Scotland) looked into cooking skills courses, by commissioning Consilium Research and Consultancy to carry out three case studies. This small-scale research found that where parents (or carers) had been involved in cooking sessions together with their children, this had improved their family cooking and eating habits compared to the other two case studies (young people or parents).
However, our most recent commissioned cooking skills review carried out by Avril Blamey and Jacki Gordon, suggests we should be more cautious about concluding that involving kids and parents together can lead to improved family eating or cooking at home. They studied reports from over 81 groups and found that cooking courses that involved parents and kids, tended to hold shorter sessions and used very simple recipes or focused on snack foods. They ask, do these factors (also) have an impact on whether the families prepare meals again or eat better at home? (see page 55 to 57).
For the next Blog, I will highlight presentations from the symposium that focused on cooking skills with children (without their parents or carers.)
Kim Newstead