A cooking skills course for young asylum seekers and refugees in Glasgow has enabled Youth Community Support Agency (YCSA) to integrate a wide range of skills into their learning, as well as social contacts and ways into getting involved with the local community.
Background
The Youth Community Support Agency (YCSA) supports young people (aged 10 to 25 years) from black and ethnic minority backgrounds in Glasgow, helping them to develop and become active members of their community. It works with over 1300 BME young people each year and provides more intensive support for around 400 of these and their families. YCSA has been running for around 25 years.
YCSA's services include:
youth development and employability support
literacy, numeracy and English language support
counselling
prison ThroughCare
In 2017, YCSA successfully applied to the CFHS Development Fund to put together a cooking skills course for young asylum seekers and refugees. Their success with this course has inspired YCSA to include cooking and social eating activities across other services and activities.
About the cooking course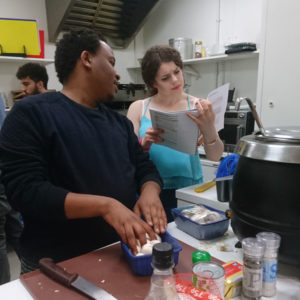 The agency had identified that cooking and shopping could be a challenge for young people that had recently arrived in the UK. These young people were likely to be trying to manage on restricted incomes and were less familiar with some typical UK fruit and vegetables. However, the aim of the course was far wider than just developing the young people's cooking and shopping skills: YCSA planned to use cooking, shopping and social eating to: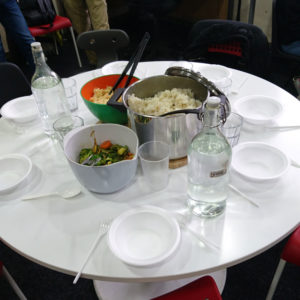 support English language and numeracy skills
team and employment skills; and
increase social contacts and integrate young people into the local area
YCSA worked with Social Work services and supported accommodation projects to find young people who might want to attend the course. Staff met with each young person before it begun to find out what they needed and wanted to learn and signposted them to other activities if necessary.
At the beginning of the cooking skills course the young people were able to choose as a group what recipes they wanted to learn. However, YCSA asked the young people to choose from a set of simple, affordable vegetarian recipes to make sure these would suit a range of dietary and cultural requirements and fit budget constraints.
The eight-session cooking course included:
Working in small groups to prepare a shared meal to eat at the end of the 3-hour session (with enough to take some home too).
Peer volunteers helping to run the course.
Food hygiene procedures.
Weighing and measuring to support numeracy development.
Individual workbooks with recipes, notes and tasks to help develop English writing skills.
Using the kitchen of a local business- Social Bite, so the young people could experience working in a catering kitchen.
Peer-leading opportunities – some young people chose to teach a recipe from their own country to the others.
Visits to the shops to discuss UK ingredients and compare costs.
A visit to a growing project run by Urban Roots to learn about food growing, food miles and volunteering opportunities.
Supporting the preparation of, and taking part in a community meal at a local community centre- the Kinning Park Complex.
Discussion of career opportunities at the WISE group training centre.
Monitoring the progress of the young people throughout the course and adapting it to their needs.
A celebration event at YCSA, where the young people planned a menu and prepared a meal for around 20 people.
Achievements and learning
For the young people:
Eight young people (all males) completed the course and all learned new recipes.
The shopping trips helped raise awareness and use of veg found in UK shops.
Individuals became more confident with their English language skills and expressing themselves.
One of the individuals started volunteering at the community growing project and others that were new to YCSA begun to take part in other YCSA activities.
Young people raised their awareness of the range of services and opportunities they could use or contribute to locally.
For YCSA:
Staff developed a cooking skills course that could be adapted as needed to suit a range of individual needs and skills.
Found that providing a wide range of activities beyond cooking helped kept young people engaged and interested.
Raised awareness of how cooking could be used to increase the young people's sense of pride when others enjoyed a meal they had made.
Learned that although the young people were offered kitchen equipment to help them replicate recipes at home, not all of them took it, as some were in temporary accommodation and had nowhere to keep it.
Developed new partnerships with local organisations to support the course.
Engaged with more asylum seekers and refugees than it had before.
Challenges
Accreditation: The YCSA had hoped the course would be used to support the young people to gain an accredited Community Achievement Award. Although the course met the requirements of the accreditation, the limited English speaking skills of the young people and high level of written English required resulted in the young people being unable to complete it at that time.
Attendance: Some of the young people did not regularly attend the course, even though they were called or texted to be reminded of it. A contributing factor to this may have been the course being run over the summer: many of the young people would usually be attending college courses, but whilst the colleges were closed the young people may have had less routine than usual.
What's next?
The YCSA found that cooking and eating was a great way to engage with young people and achieve outcomes beyond food skills. They plan to incorporate cooking and social eating into other activities for young people where possible. Encouraging young people to turn up early for an activity and assist or take charge of planning, shopping and preparing food for others fits with YCSA's ethos of encouraging young people to take a lead and develop themselves.
'The young people love cooking, so we will continue to include it where we can!'