Anne and Karen from Kate's Kitchen took part in a small group of community cafés looking at self-evaluation with CFHS. They wanted to find out what difference the 'pay what you can' café made to people's lives and how users thought the gardening service could improve.
Background
Between August 2017 and March 2018 we worked with a small group of community cafes to look at self-evaluation, including Kate's Kitchen.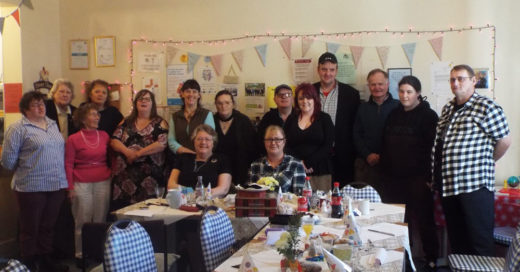 Kate's Kitchen (KK) is based in Annan in Dumfries and Galloway. The organisation's aim is to make life better for everyone that comes through the door. It runs a 'pay what you can' café which is open to anyone: people using the café come from a wide area around the town.  The café offers full lunches twice a week, and light lunches another two days when group activities are running. It also provides breakfasts. KK is funded through the Scottish Government's Fair Food Transformation Fund[1].
It also runs a gardening service.
Volunteers are essential to KK. To ensure continuation if and when funding ceases, the staff have been working with them to develop the skills required to take over ownership of the service. Some of the volunteers have been service users or customers in the past: some still are to some extent, but are moving towards a more positive destination and less supported volunteering.
What outcomes did they focus on?
Anne and Karen share the management of KK. While KK has systems in place to collect information for evaluation purposes, they were both aware that this information didn't allow them to understand the difference that the services were making to their service users.
Anne's role includes applying for and reporting to funders: she wanted to see if what KK said it was going to do actually happened. She also wanted to gather evidence from service users to support funding applications for a new outreach service.
Karen wanted to find out more about the gardening service, which had been running since summer 2016.  As well as finding out the service user's feelings about the gardening service, she also wanted to explore how they felt the service could develop.
What evaluation activities did they use?
Anne designed a questionnaire around the issues KK wanted to explore. It included eight questions, both tick box and open questions. Five volunteers chatted to and worked with customers, to encourage them to provide open and honest responses, and ensure that the questionnaires were completed properly.
Usually, KK would use another approach with their customers, for example World Café[2]. Anne used a questionnaire this time because KK wanted to gather information quickly, and from more people.
Karen ran a session for the 12 services users involved in the gardening service. She used a range of evaluation tools, including a bean counter, appreciation line, an H-plan diagram and a voting sheet with stickers.  To gather as much information as possible, two member of staff were involved: one facilitated the session and worked with the gardeners to make sure they could participate in the different activities, while the other recorded what people were saying in the conversations that took place.
Karen also used pair wise ranking[3] to prioritise the information gathered.
What did they find?
Fifty-one people completed Anne's questionnaire. Not all the responses were positive, but only two people stated the the service had made no difference to their lives.  Two stated that the services had been life-changing, and had given their life a purpose.  More confidence, building new friendships and having somewhere to go were all highlighted by other service users.  The issues faced by the customers included social isolation and loneliness in particular, but also included financial difficulties.
The questionnaire also highlighted the transport costs and difficulties faced by a quarter of those surveyed. This finding will be used to inform funding applications for an outreach service.
The evaluation of the gardening service found out what the gardeners thought could be improved and done differently.
What next?
The negative comments from the questionnaire (around bullying and cliques within the services), were followed up.
Anne shared the evaluation report produced with KK's staff and volunteers. Many were feeling jaded and that they were not making a difference to their customers' lives (many of whom were facing difficulties that were difficult to resolve). Anne was going to use the questionnaire's finding at a staff evaluation session, to build morale.
The evaluation of garden service identified that some of the questions included needed exploring further. However, it has been used to start to involve the gardeners in running and managing the service (which has raised some challenges, which are being overcome). KK intend to repeat the evaluation and use this for future planning.
What were the key learning points for Kate's Kitchen?
Evaluation can seem like a chore, especially when services are busy.
KK's customers may not realise themselves how they have changed and developed. Embedding evaluation makes it possible to show them the distance they have travelled: not only does this motivate the customers, but the staff and volunteers as well (the 'pat on the back').
Using appropriate and proportionate evaluation methods is key. For example, the methods used with the evaluation of the gardening service recognised that some of the gardeners involved had poor literacy skills.
---
The Fair Food Transformation Fund supports projects that give a dignified response to food poverty and help to move away from emergency food aid as the first response to food poverty. https://www.gov.scot/publications/review-fair-food-transformation-fund/
Information about the World Café method  – http://www.theworldcafe.com/key-concepts-resources/world-cafe-method/
Details of the evaluation methods used, and other methods can be found at: https://www.evaluationsupportscotland.org.uk/resources/ess-resources/ess-evaluation-methods-and-tools/