'For nobody to go hungry during a time of crisis in the Kirkcaldy area and for everybody to share what they can' is the foodbank's mission. It helps provide emergency food parcels for people in need and support them to find longer-term solutions.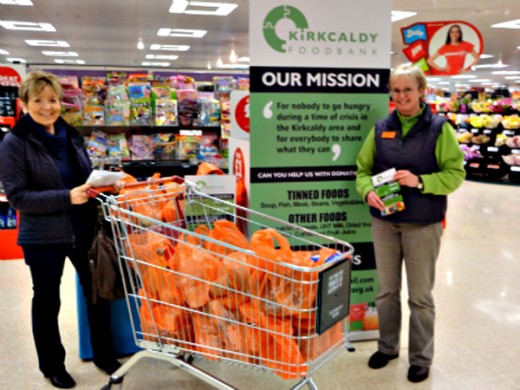 Background
Kirkcaldy Foodbank was launched in December 2013. It runs from a hub at Dysart St. Clair Parish Church, to the north east of Kirkcaldy.
It came about because of growing evidence that food aid provision in the Kirkcaldy area was not meeting demand. Growing concern from councillors, voluntary organisations and community workers led to a Kirkcaldy-wide public meeting being held in April 2013. At this representatives from faith groups, community groups, local agencies supporting vulnerable groups and local businesses discussed establishing a food bank.
Shortly afterwards a steering group was set up which started the process of creating the organisation, bringing together support, partnerships and funding. Much of the foodbank's infrastructure has been provided as in-kind support:
Dysart St. Clair Parish Church host the foodbank, including two rooms with space for administration, food storage and packing
Fife Council departments, for example helped to establish the foodbank storage area
Fife Voluntary Action gave advice and training
Digital Fife provided website support
Local store fitter, Haverlock Europa, provided shelving and technical support
Local supermarkets supplied donations and host donation stations.
How it works
Donation points
Local organisations like schools, local supermarkets, churches and faith groups collect donations of non-perishable food. Donation points are advertised on the foodbank website, local information points and in local press. Food is collected from donation points by volunteers and taken to the foodbank hub.
Hub and collection points
Volunteers at the hub make up food packages (which are nutritionally balanced and prepared for single people, couples or families) and deliver them to three satellite collection points. The hub is open three days a week for three hours staffed by four volunteers on each shift.
The collection points are located at three voluntary sector centres across Kirkcaldy: Cottage Family Centre; St Bryce's Centre, Link Living (homeless support). Food packages are picked up by people who have been referred from the satellite collection points.
Referrals and crisis support
Along with a number of other organisations (e.g. Fife Gingerbread; Frontline Fife, Barony Housing Association, Scottish Welfare Fund) the voluntary sector centres refer clients to the foodbank. Before they are referred to the food bank people are interviewed and assessed as being in need of short-term food aid. All referring agents must submit an online referral form when a request has been made.
While support may be necessary for just three days, further help for up to six weeks is available if the person is being supported to find solutions to their crisis.
Where a referrer is not based at a collection point, they issue a voucher to food aid recipients to take to the collection point. The referral agents and collection points are listed on the website.
Other support
Some of the collection points provide support with cooking and budgeting skills and there are opportunities to provide further help to those that request this type of support. Fife Community Food Project is also producing recipe cards for foodbanks across Fife. These will include information on how to access practical cooking workshops.
Funding
Development support and start-up funding came from Fife Community Food Project, Fife Council Kirkcaldy Locality Support Team and the Fairer Scotland Fund.
There have also been financial donations from local individuals and organisations. This has allowed the foodbank to pay for insurance, telephone, internet connection, promotional materials, food and equipment.
Challenges
One challenge has been to ensure that demand doesn't outstrip supply. For this reason the number of referring agents was limited at the start and increased as capacity and resources allowed.
Measuring impact has also been identified as a challenge. The robustness of its system needs to be kept under review, including hosting review meetings with referral agencies.
Achievements
Between launch in early December 2013 and late January 2014, 184 emergency food aid boxes were provided – 97 to single people, 33 to couples and 54 to families of four.
The foodbank uses a simple system that utilises the strength of its volunteer pool with the capacity of existing agencies that support people in need.
Partnership working has helped ensure supply meets demand, kept the project accessible and provided many opportunities for local participation.
A commitment to regular reviews of operations has been critically important, enabling the project to iron out practical problems early on.
Having a range of committee members with useful skills and networks has helped the project to progress in a considered, timely and professional manner.
Regular email newsletters, up-to-date website and use of social media have been effective in promoting the foodbank.
Future plans
In the short term the foodbank plans to keep on developing its operations in a sustainable way, aiming to provide a professional service and use resources wisely.
However, the group is aware of the wider debate and policy environment regarding foodbanks. While Fife Council has been a firm supporter of food banks, it has stated that foodbanks should not become a permanent feature of local welfare support. Indeed it is common for volunteers and donors to ask why we need them.
Quotes from volunteers
"The number of clients coming to St. Bryce is gradually increasing. The ages range from late teens to mid sixties and benefit issues are the main reason. The saddest situation is that of the 'sofa surfers'. These people have no home and spend a night on one friend's sofa and another night or two on another sofa. They cannot stay more than a few nights at a time with any one friend as it could affect that person's benefits. "

"Several people have said that now they have been given food they can put some extra money on their power cards and get some heat in their homes. It is a very humbling but worthwhile task we have all undertaken"