Confidence to Cook aims to promote healthy eating messages through practical hands-on cookery sessions, particularly in low-income communities with vulnerable groups. Sessions are run across Grampian in a range of venues including community kitchens.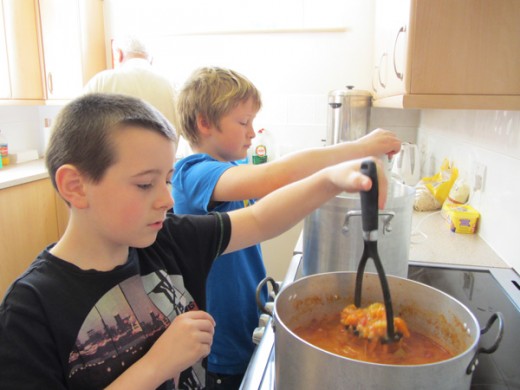 Background
Confidence to Cook (C2Cook) was set up in 2004 by NHS Grampian and Aberdeen City Council. It was developed for their first community kitchen at Summerhill Education Centre which closed in 2011 when the centre was sold by the council.
Further community kitchens were set up in Huntly and Inverurie (the Garioch Kitchen) with the support of Aberdeenshire Council and other agencies. In Aberdeen City two family centre kitchens (one community centre and a gypsy traveller site) have received investment, providing multiple cookery workstations to enable practical cookery skills to be delivered to a range of client groups.
In recent years Community Food Initiatives North East (Cfine) have developed a large multiple station training kitchen in their premises where sessions can be offered to food bank users, various vulnerable groups and income generation sessions to support the project. They utilise predominantly Fare Share produce for their budget cooking sessions.
In Moray, C2Cook sessions are run in popular community venues such as Elgin Youth Café, and sessions are supported by Moray Food Network (MFN) which works to promote knowledge and skills around food and health, as well as local food.
How it works
C2Cook encourages groups to use one of its community kitchens where possible. The kitchens are available for hire by any community group, school or agency, and are available for groups of between four and 10 participants, plus a facilitator and newly trained facilitators can buddy up to gain experience.
All groups must agree to terms and conditions for the use of the kitchen and must hold an up-to-date, recognised food hygiene certificate.
Groups planning to deliver cookery sessions must also complete the C2Cook's own two-day 'Train the Trainers' course. This provides training in teaching techniques, nutrition messages, food-budgeting and cooking skills.
REHIS training in Elementary Food and Health or food hygiene is also offered and delivered by NHS Grampian staff and partners.
The programme has its own 'C2Cook pack' and Confidence to Cook online resource available at www.confidence2cook.co.uk which has a wide range of nutritionally analysed recipes for participants to choose from – all emphasise healthy eating on a budget. The pack is a comprehensive, flexible, evidence based resource which encourages and supports facilitators to deliver practical food skills sessions.
C2Cook emphasises the social side of cooking and eating, so, depending on the time of day, most of the sessions will finish with the group setting the table, eating a shared meal and taking home any leftover food.
Some groups attending morning sessions arrive without eating breakfast, so the facilitator suggests making something to eat before starting the session, such as a scone or a fruit muffin. Fruit is usually available for participants during sessions.
Huntly Community Kitchen
This kitchen is based within the Linden Community Education Centre. The centre provides day, evening and weekend opening hours, administration and cleaning support for the community kitchen, and crèche facilities can be pre-arranged.
The kitchen has three workstations, consisting of an oven, hob, sink and workspace, and one height-adjustable workstation suitable for wheelchair users or small children. It also has a sink for hand washing, lockable storage for knives, a dishwasher, a washing machine and a tumble drier. There is also a large kitchen table and chairs so that groups can enjoy a shared meal.
Garioch Community Kitchen
This kitchen is based in the Wyness Hall in Inverurie. It has similar facilities to the Huntly kitchen but does not have extended opening hours and the support that a community centre provides. The kitchen is managed by a committee and provides part-time employment for a development officer who also facilitates many of the cookery courses, an admin person and a cleaning post.
Set-up costs and facilities
The Huntly kitchen cost around £26,000 to set up and the Garioch kitchen cost around £56,000, including buying and installing the kitchen and equipment. Garioch required extensive building work.
One of the benefits of having set up a number of community kitchens has been the ability to improve on the previous kitchen. The newer kitchens are more open-plan, enabling the facilitator to see how participants are getting on with tasks.
Charges
Groups are charged a nominal fee set by the local authority depending on the client group, although in exceptional situations this might be waived.
The hire costs include the use of a large range of store cupboard items, such as flour, oil, stock, herbs and spices. Each group brings their own perishable food items.
Facilitators are an additional cost depending on the group and the length of the session. The project has helped to generate income for the kitchens by charging higher rates to some organisations and businesses.
Funding
Ongoing funding, donations and staffing costs have come from a range of organisations, including the Fairer Scotland Fund, Garioch Community Planning group, Aberdeenshire Childcare Partnership group, Grampian Opportunities and the Health Improvement Fund.